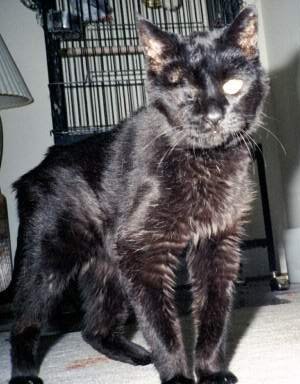 "Ebony" (1979-2000)
She passed away on 1/14/2000. Living through parts of four decades (b. 12/79), she had the best life any cat could have. I had her humanely euthanized when she could no longer stand up due to old age infirmity, and she was sobbing quietly in obvious pain.
My vet says she was over 100 years old in human years. He also says she was one of the oldest cat he's ever seen in 20 years of practice.
The photo above is from 12/99 when she turned 20. I had her right eye removed at age 17 when she had glaucoma that nearly killed her. She had three more great years of pain-free living.
I sure miss her. She lived with me from the time I was 20 until 40, exactly half my life.